The Internet . . . a place of virtual anonymity. Seemingly a safe refuge for the weary running man whose identity has become a secret more lethal than any computer virus. But even now, a world-wide web is tightening around Dr. Richard Kimble, as he continues to be pursued by those still eagerly obsessed with his story . . .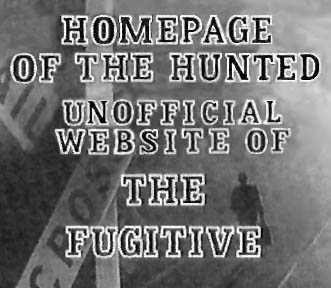 Welcome to HOMEPAGE OF THE HUNTED, the website devoted to the 1963 - 1967 QM Productions television series The Fugitive . . .

. . . the story of Dr. Richard Kimble, an innocent victim of blind justice. Falsely convicted for the murder of his wife. Reprieved by FATE when a train wreck freed him en route to the deathhouse. Freed him to hide in lonely desperation. To change his IDENTITY. To TOIL at many jobs. Freed him to search for a one-armed man he saw leave the scene of the crime. Freed him to RUN before the relentless pursuit of the police lieutenant obsessed with his capture . . .

Tonight's Episode . . . DEATH OF A VERY SMALL KILLER
---

Most-Wanted Episodes, and Runners-Up: A COMPLETE EPISODE GUIDE

QUIPP MARTIN'S Episode SNIDE (humorous riffs on the titles of FUGITIVE episodes by an anonymous contributor)
Audio of the opening narration (in ".au" format), thanks to Andrew Starr
Audio of the theme music (in ".mp3" and ".wav" formats), thanks to Matthew Garland and B. J. Major
(Note: These large files may require some time to download.)
---

Lyrics to the Theme Song from The Fugitive !
---
<http://unchance.net/Fugitive>
Created and maintained by Joseph Rosenzweig, fugitive-owner@yahoogroups.com